Don't laugh, but I just recently started Taekwondo (TKD) at age 40. I remember growing up watching Jhoon Rhee commercials and wanting to join a karate class, but we just didn't have the money. There I was at 10 years old watching kung fu theater on Saturday mornings and I would see these commercials pop up. "Nobody bothers me" was the tagline that stuck in my head.
Skip ahead some 30 years and now I have my own daughter and it's the first time I walk into a Taekwondo class. In the beginning, it was all about my daughter learning TKD, getting discipline, learning respect and all that. But while I was watching her in class, I started thinking, "it will be cool to actually do the class with her." So, a few months after we arrived in Oklahoma, I began my first Taekwondo class. Yep, at 40 years old.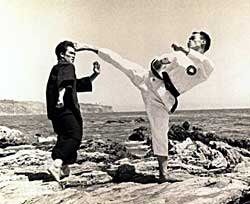 Image for Taekwondo Speed Training –
Now, I'm always looking for ways to improve. I can't lie, I do have my dreams of becoming a kung fu master! But those are just dreams. Realistically, I search for ways to keep from hurting myself. At the same time, I look for ways to build up my speed, flexibility, stamina, coordination, and overall balance.
Today I found
this website
that actually has some good information about how to develop your speed and kicking. This is something I really plan to work on in the following weeks.
Check out the website let me know what you think. Leave a comment below, especially if you are in TKD and you're going through something similar.
Oh by the way, this is the first post that I'm actually dictating using Dragon's Naturally Speaking 12 software.